Our Service Program
Encore Master Builder is proud to offer our Industry-Leading Quality Customer Service Program. Our service program continues to garner awards and recognition — but more importantly — satisfied homeowners.
What to Expect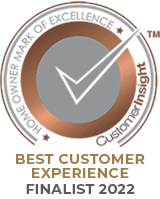 Prior to possession, and during the first year of occupancy in your new Encore Home, we'll schedule the following:
Orientation Meeting - shortly before possession, our Quality Control Manager will carefully review the "home systems" with you, and explain in detail your Service and Warranty program. A home and site inspection will be conducted, and any seasonal or other deficiencies will be recorded. Prompt follow-up on these items will be our priority.
Three Month Service - at 3 months, our Service Technician will visit your home at a mutually convenient time and deal with any service issues. We will also inspect and adjust teleposts where necessary.
Eleven Month Service - as your year-end warranty period approaches, our office will schedule an 11-month inspection at a mutually convenient time. Once again, our Service Technician will ensure a prompt follow-up of all sub-trades.
In the event that you may have an emergency situation in between our scheduled service appointments, we provide 24-hour emergency call numbers for mechanical issues.
Warranty Protection
Encore Master Builder is a long-standing, Accredited Member of the Alberta New Home Warranty Program. Every new home constructed by Encore includes Workmanship & Material coverage, Delivery & Distribution Systems coverage, plus 5-Year Building Envelope coverage, and 10-Year Structural coverage.
When it's over...you'll want an Encore.
Our collective objective is to go that extra mile for you. As a registered Master Home Builder, and proud member of the Alberta New Home Warranty Program, we can assure you peace of mind while providing exceptional value in your new home purchase.
In selecting Encore Master Builder to build your new home, you can truly Expect to be Impressed!